End-unwrapping solution for Beer & Beverage industry
Mini Multifeeder-2
CSW Mini Multifeeder-2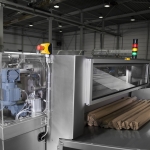 An automatic can-end unwrapping unit for low capacity lines suitable for all beverage easy open ends as well as for the Food industry, capable of unwrapping 2 roll-ends per minute.
CSW Mini Multifeeder-2 – MMF-2 for aluminium can-ends as well as steel-ends, with a maximum capacity of un-wrapping two (2) rolls per minute, allowing a guaranteed capacity of 60,000 ends per hour with minimal 500 ends per sleeve, or 72,000 ends per hour with minimal 600 ends per sleeve, to the downstream seamer/filler equipment.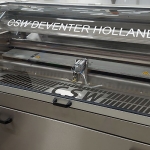 Completely stainless steel structure
Storage table with optoc ensuring controlled feeding of rolls
Storage capacity of 50 rolls 2.02
Unwrapping unit by means of retractable knife in conjunction with rollers.
Paper bin collector
Sentinel system, for detection and automatic removal of reversed ends
Discharge end conveyor c/w gap-control unit for controlled feeding towards seamer
Standard 5 metre of can-end conveyors included
Easy operating and cleaning
Minimal effort required for maintenance
24-hour operation – 7 day a week.
Maximum safety for operating staff
CSW guarantees a machine efficiency of  minimal 99% according to OEE.
Technical Data
Model
MMF-2
Note
Seamer connection
Single end infeed
Can-ends
Aluminium SOT/Steel
Executing with CDL/Superends as standard
Can-ends per hour
60,000 with 500 ends per sleeve, 72,000 with 600 ends per sleeve
Can diameter
2.00-2.09
Roll length
800 – 1,200 mm
Fixed to one length
Roll variation
+/- 25 mm
Roll capacity
Max. 2 rolls/min.
Packing of rolls
 Acc. to CSW spec.
Compressed air
6 bar (g)
Air connection
10 mm
Compressed air consumption
2.4 Nm3/h
E-Power connection
400V; 3 phase; 50 Hz and Earth
Total connected power
2 kW
Peak power consumption
1 kW
Stand by
0.2 kW
Dimensions incl packaging
5.5 * 2.3 * 2 (mtr)
Nett weight approx.
1,350 kg
Please note that submitted energy consumptions are for indication purposes only, equipment energy consumption depends on actual system configuration for your specific requirements.
---
For your specific requirements please contact your CSW representative, call +31 (0) 570 678 700 or find your local CSW agency ›.